Foundational Level Course
English I
This course aims at achieving fluency and confidence in spoken and written English. This course will use insights from theories of learning and dominant methods of teaching language.


Course ID: BSCHS1001
Course Credits: 4
Course Type: Foundational
Prerequisites: None
What you'll learnVIEW COURSE VIDEOS
Acquiring wide range of vocabulary and linguistic competence that is required for functional performance;
Identifying patterns of basic sentence types and structural accuracy;
Building elementary foundations for the knowledge related to conventions and use of language in society, particularly in speaking and listening skills;
Developing the basic skills for creative reading and writing with precision.
Course structure & Assessments
12 weeks of coursework, weekly online assignments, 2 in-person invigilated quizzes, 1 in-person invigilated end term exam. For details of standard course structure and assessments, visit Academics page.
| | |
| --- | --- |
| WEEK 1 | Sounds and Words |
| WEEK 2 | Sounds and Words (Continued) |
| WEEK 3 | Sounds and Words (Continued) |
| WEEK 4 | Sentences |
| WEEK 5 | Sentences (Continued) |
| WEEK 6 | Listening Skills |
| WEEK 7 | Listening Skills (Continued) |
| WEEK 8 | Speaking Skills |
| WEEK 9 | Speaking Skills (Continued) |
| WEEK 10 | Reading Skills |
| WEEK 11 | Writing Skills |
| WEEK 12 | Writing Skills (Continued) |
Prescribed Books
The following are the suggested books for the course:
Aarts, Bas (2011). Oxford Modern English Grammar, New York: Oxford University Press
Murphy, Raymond (2012). English Grammar in Use, New York: Cambridge University Press. 4th Edition
Krishnaswamy, Subashree and K. Srilata eds. (2007). Short Fiction from South India. Delhi: OUP.
Dhanavel, S.P. (2010). English and soft skills (V-1). Chennai: Orient Blackswan.
References:
Oxford English Dictionary
Croft, Sebastian (2018). How to Analyze People: The Ultimate Guide to Speed Reading People Through Proven Psychological Techniques, Body Language Analysis and Personality Types and Patterns (Available on Kindle)
Malgudi Days: A collection of short-stories (RK Narayan)
365 Jataka Tales (Om Books International)
365 Panchtatra Stories (Adil Mukesh)
365 Tales from Indian Mythology (Om Books International)
About the Instructors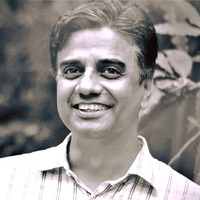 Rajesh Kumar
Professor, Department of Humanities and Social Sciences, IIT Madras
Rajesh Kumar is professor of linguistics in the Department of Humanities and Social Sciences at the Indian Institute of Technology Madras, Chennai. He obtained his PhD in linguistics from the University of Illinois at Urbana-Champaign. Prior to joining IIT Madras, he taught at IIT Kanpur, and IIT Patna in India and at the University of Texas at Austin in the USA. He has been a visiting faculty at the Tata Institute of Social Sciences in Mumbai in India. His book on Syntax of Negation and Licensing of Negative Polarity Items was published by Routledge in their prestigious series Outstanding Dissertations in Linguistics in 2006. He is associate editor of the journal Language and Language Teaching. He has been part of the language teaching program at all the institutions he has been affiliated with. The broad goal of his research is to uncover regularities underlying both the form (what language is) and sociolinguistic functions (what language does) of natural languages.
Other courses by the same instructor: BSCHS1002 - English II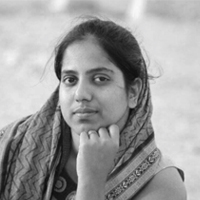 Karthika Sathyanathan
Alumna, Department of Humanities and Social Sciences, IIT Madras
Karthika has an MA in English Studies from IIT Madras. She has worked as a Language & Education Consultant with multiple government departments and non-government organisations. Currently she is working as project officer with IIT Madras. Her areas of interest include ELT, multilingualism, multiculturalism and second language learning.
Other courses by the same instructor: BSCHS1002 - English II